Please note that we have updated our newsletter on this website as of November 10, 2017.
The Biesen's link tells about the 3 family members in the custom gun field.
The only member not deceased or retired is Paula Biesen-Malicki (the 3rd generation).
She is the only member of the family with any current pictures of her work.
Please see corresponding link buttons on the bottom of her page for more pictures.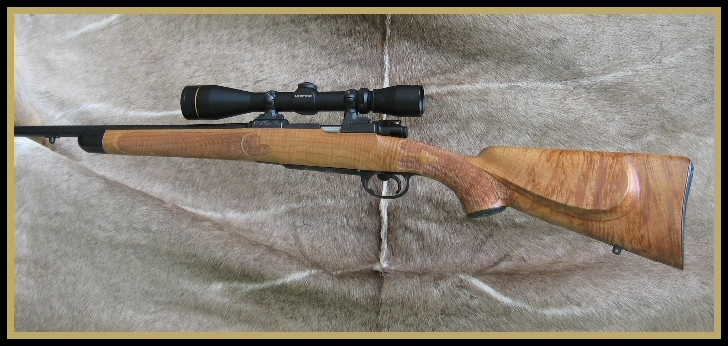 This is a picture of Paula's custom rifle stocked and checkered by Al Biesen before his stroke in 1999.
It is the last project he checkered himself...
He chose the action and the caliber (I'm assuming with input from Roger)
All the metal work, bluing and final assembly was completed by Roger almost a decade later.
It did not get fully finished until Paula felt her engraving talents were WORTHY of this priceless project.
Sometimes the best projects do take decades to complete!
(She has a very entertaining story about what her original engraving idea was)
This rifle is engraved with a "Grand Slam" of sheep with both the Desert and Stone sheep on the floor plate.
Big Horn sheep on the grip cap and Jack O'Connor's Pilot Mountain Dahl sheep on the butt plate.
This picture was taken before she developed her "French Grey" process.
Now all of the engraving has been refinished in this same French Grey technique.
___________________________________________________________________________
Below are some random engraving examples done for multiple gunsmith's, Companies etc.
Please understand that ALMOST anything can be engraved on a firearm.
We do have preferences, but a business is a business no matter how small our shop is.
You will see several projects Paula did for the Cooper Arms Company.
Paula is no longer a vendor for them...
They parted ways this summer when she had some serious health issues.
PLEASE KEEP IN MIND MOST PHOTOS ARE IN-SHOP and not Professionally taken!
---
Copyright (c) 2017 Biesen Custom Guns. All rights reserved.