Three Generations of Craftsmen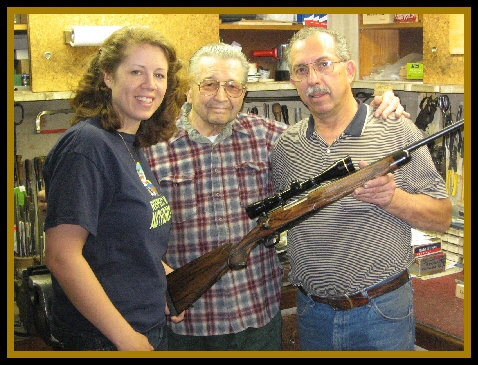 Al Biesen started building custom sporting rifles in the 1940's.
Roger Biesen joined his father full-time in the 1970's, producing the same outstanding craftsmanship and adding the skill of a seasoned machinist.
In the early 1990's the third generation (Roger's daughter) Paula Biesen-Malicki, joined her family as a custom firearms engraver.
At the time that they all were taking commissions, they were the only family in America that could produce a "Start to Finish" completely custom firearm "In House".
To this day we have customers world wide, all with one thing in common; The satisfaction of knowing that they are hunting with one of the finest and most reliable performance rifles available.
We don't advertise our work and have been very fortunate that People/Hunter's/Collector's and thank the Lord; Writer's like...
Jack O'Connor
Wayne van Zwoll
Tom Turpin
Terry Wieland
and Dave Anderson
Just to name a few -- Have promoted and appreciated the work we produce!
We thank them for every kind word they have ever written!
We can say with certainty that they are all beautiful human beings as well!!!